Reflections on "Reflections Through Time":
Meta-narratives in the Art of Ruth Weisberg
by Annabel Osberg | July 17, 2015

Click Images to Enlarge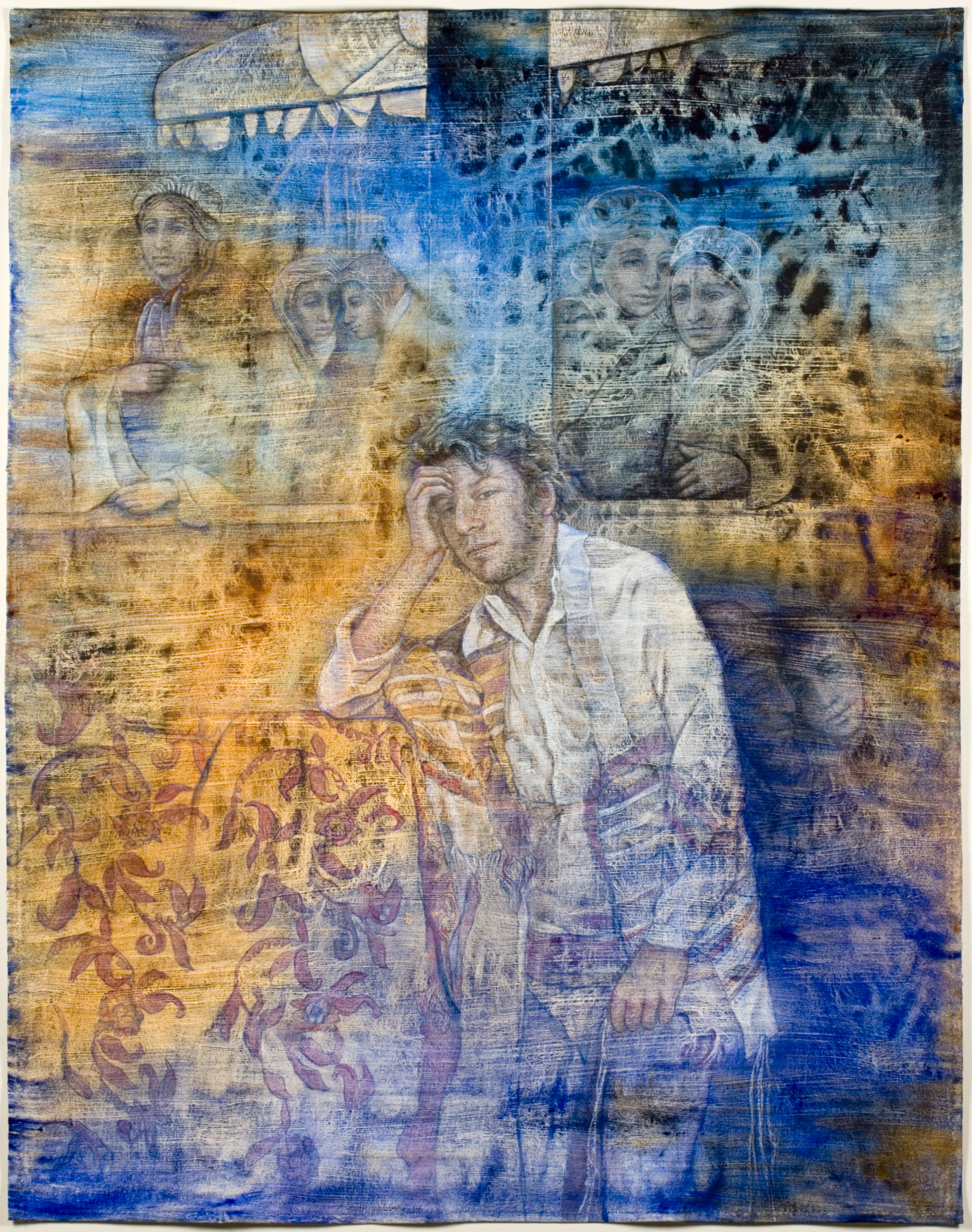 Return, 2014
Mixed Media Painting on Canvas
64 1/4 x 50 3/4 inches
"I'm painting memory--the art becomes a vessel for my meanings," the Los Angeles Times quoted Ruth Weisberg in 2007. "Once you go down this path of being an artist, it's very difficult to comprehend people who don't have a place to put their meanings in life." Perhaps she offers her own art as a surrogate receptacle. Weisberg's statement from her past illuminates her current exhibition, "Reflections Through Time," at Jack Rutberg Fine Arts in Los Angeles.

Throughout her career, Weisberg has been committed to reimagining old masters' artworks to reflect her own personal and social perspective while self-consciously insinuating that her viewers, in turn, may accept or reject her postulations. Artworks may begin as repositories for the artist's meanings; but the artworks' depositaries are also free to extract from them significance and attribute to them new ideas. Weisberg's re-interpreted pictures become screens onto which others may project.

As its title alludes, "Reflections Through Time" is a survey of Weisberg's work since 1972. Weisberg recently presented an exhibition at the University of Tennessee in conjunction with the Southern Graphics Council's bestowal upon her of their Printmaker Emeritus Award. Rutberg, who has represented Weisberg since 1983, organized this show at his gallery in order to expand on that exhibition.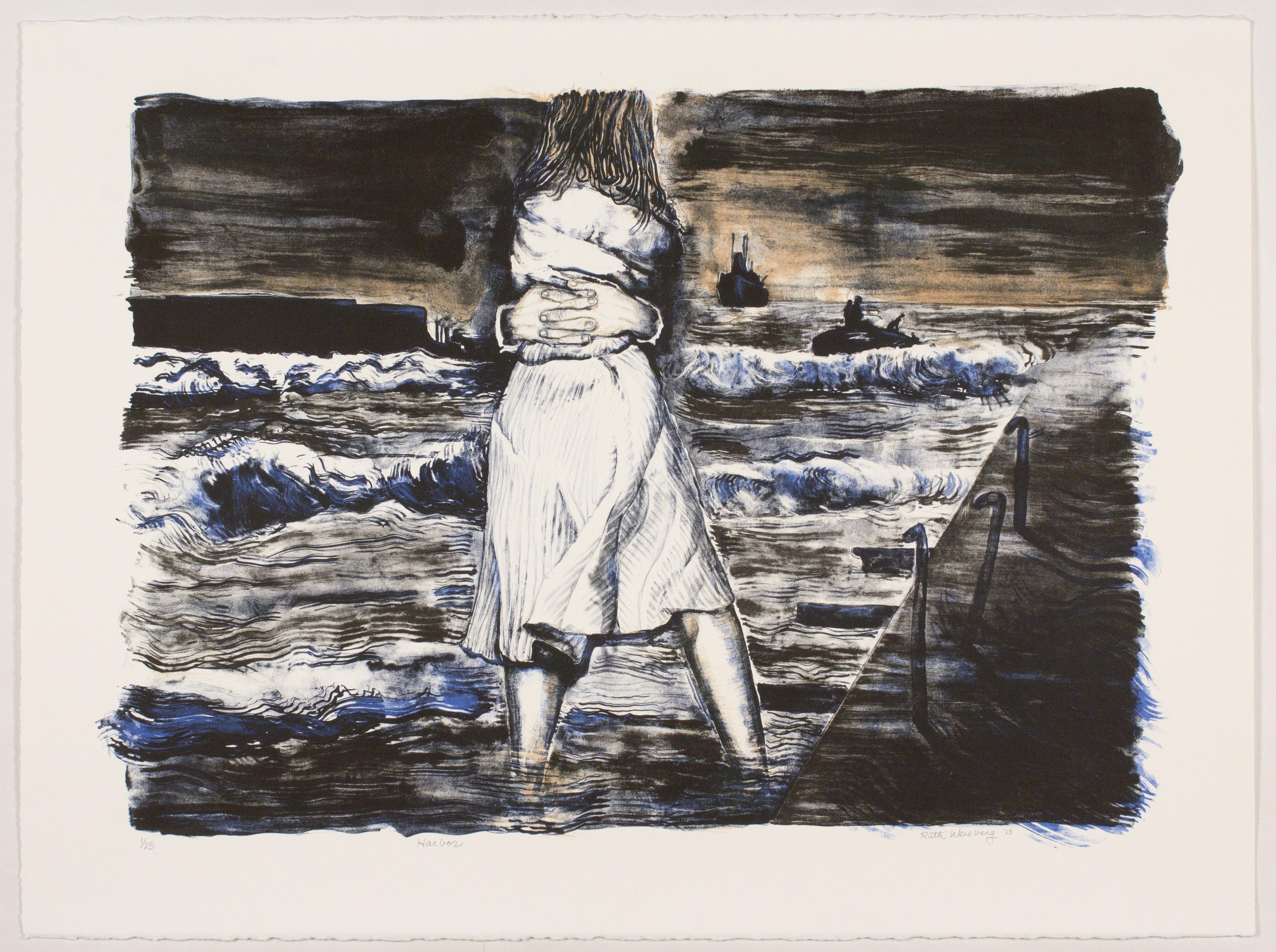 Harbor, 2015, Original Lithograph, 22 x 30 inches
During a gallery tour, Rutberg explained to me his curatorial intentions and how conceptual through lines crisscross the room from work to work and interlace a manifold exhibition that elucidates key aspects of Weisberg's long-term interests. The intersection of these rambling through lines parallels Weisberg's decades-long investigation of the convergence of art history, cultural and personal history, and memory.

From ages six to sixteen, Weisberg's first ten years of art training took place at the Art Institute of Chicago. The collection's formation of her artistic identity is not only evident in her techniques, but also in works that she chooses to reinterpret. Corot's 1870 painting Interrupted Reading, a part of that collection, is one of many historic works represented in her exhibition.

Several works, including Return (2014), are based on Maurycy Gottlieb's 1878 painting Jews Praying in the Synagogue on Yom Kippur. Seeing the painting at the Tel Aviv Museum while on a trip to Israel, Weisberg realized that the artist bore a remarkable resemblance to her son, whose image she later inserted in the place of Gottlieb's self-portrait within her reinterpretations of the painting.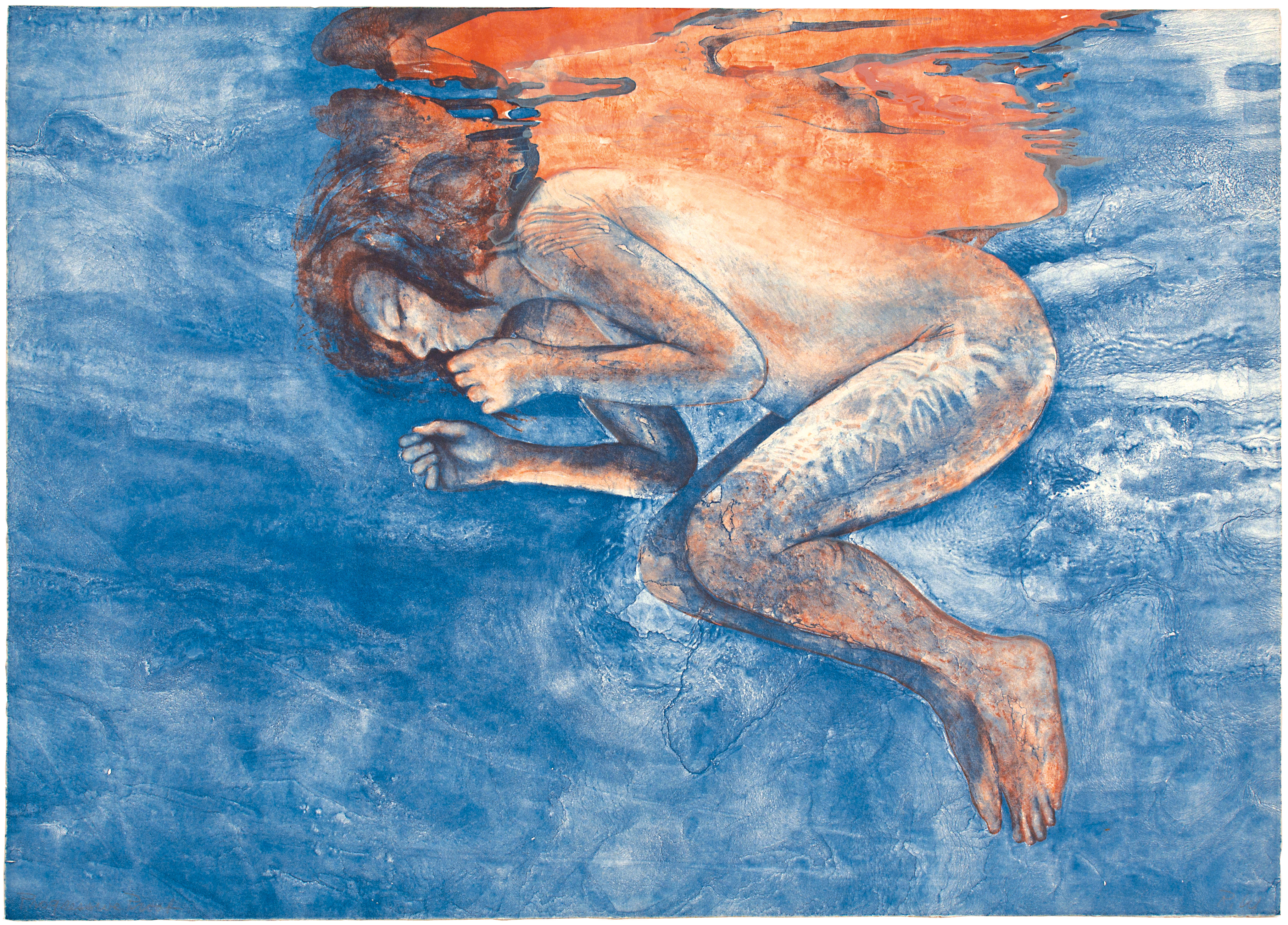 Waterbourne, 1973, Original Lithograph, 30 1/4 x 42 1/4 inches
In altering historic paintings and envisaging herself and family members as their protagonists, Weisberg personalizes art history while historicizing her own paintings. Many artists seek to engage in dialogues with their contemporaries or recent predecessors, often with the presumable intention of securing an appropriate place in a linear critical narrative driven by conceptions of progress. Conversely, Weisberg plucks artworks from long ago out of their external accretions of ideologic miasma, emphasizing the idea that anyone is free to approach art history from an individual perspective and experience art apart from narratives attributed by others over time.

Any given painting, drawing, or print is a potentially permanent crystallization of its artist's hand and vision; which, if it withstands time and maintains the interest of succeeding generations, is eventually subsumed by categorization into the usually chronologically linear canon of art history. Supplementary information explaining old artworks in texts and at museums is meant to facilitate understanding of the works' context in order to combat missed significance due to temporal gaps and loss of meaning over time; but it can also have the opposite effect. Excessively dwelling on an artwork's historical significance dulls a viewer's sensitivity towards the artwork's emotional and visceral effect; the artist's hand and thoughts are overlooked in favor of cerebral auxiliaries.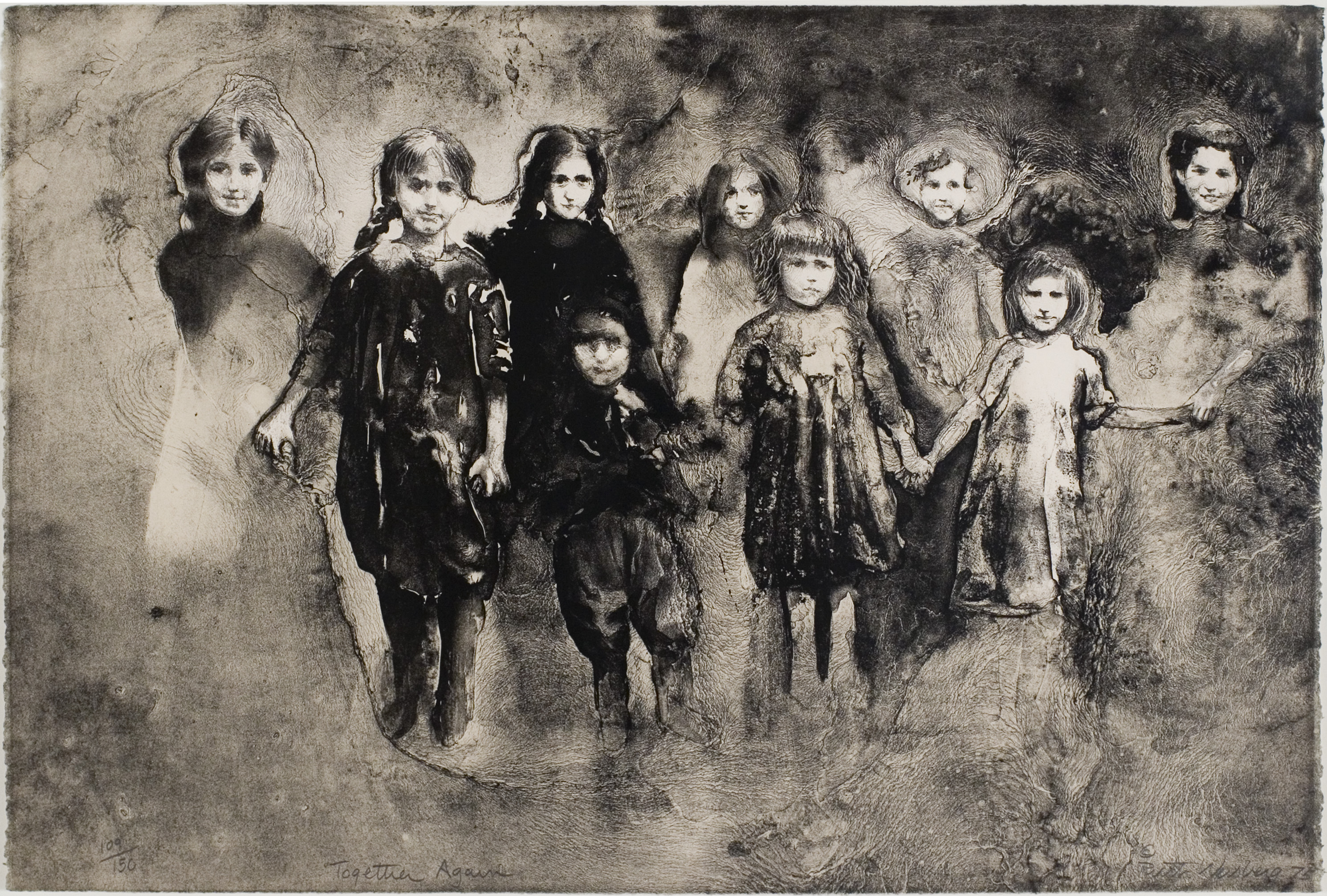 Together Again, 1975, Original Lithograph, 15 x 22 inches
(How many people in museums spend more time reading placards or listening to headphones on self-guided tours than they do actually looking at the art?) Weisberg exhumes paintings from their assigned categories on historical timelines, renewing some of the artist's original meanings and techniques while questioning others in assertion of her different, contemporary perspective.

Weisberg's individual approach to remembering these paintings thus takes precedence over the collective memory of art history. Even as her obsessive portrayal of old paintings subverts art historical chronology, her admiring emulation of her sources avows their enduring importance. Weisberg is self-conscious, but not ironically so. In this respect, her perspective seems postmodern, sans the usual concomitant irony. The old masters aren't exactly fashionable; but that seems to be part of Weisberg's point--they don't need to be; their greatness is timeless, though not above interrogation.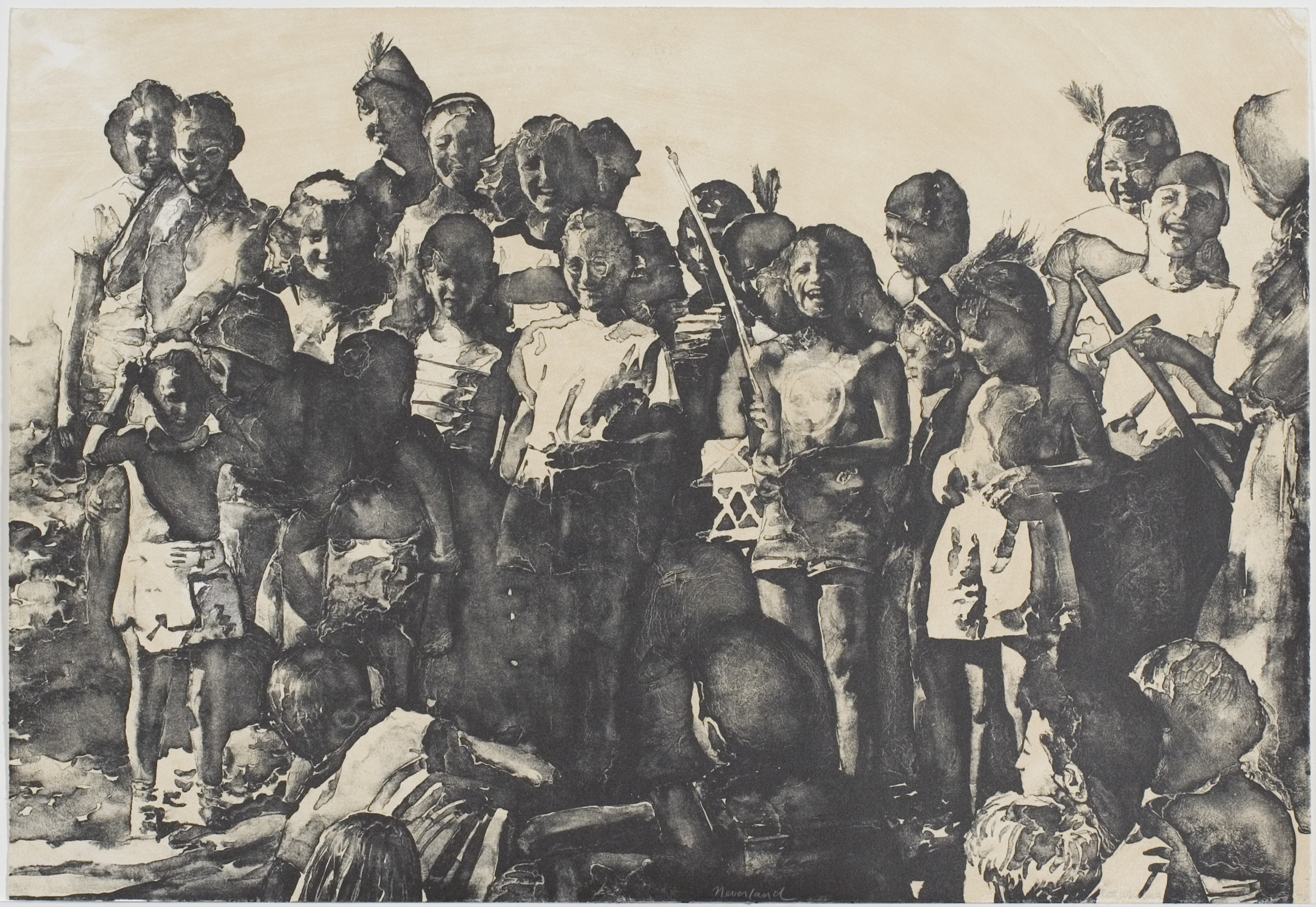 Neverland, 1976, Original Lithograph, 22 x 32 inches
Weisberg's work is suffused by melancholic nostalgia for past times, deceased people, and lost loves. Desires are thwarted; journeys curtailed. Several studies for a large New York mural portray scenes of immigration struggles of Jewish diaspora. Figures appear phantasmal, dissolving into backgrounds. Phantom lovers frequently materialize, as in Harbor (2015), where Weisberg is embraced by interlaced hands that seem to belong more to the seascape surrounding her than to an actual person.
Even Weisberg's more concrete figures are suspended in washy hazes that suggest dreamlike spatiotemporal ambiguities. Most literal is Waterbourne (1973), depicting a lone woman floating in a pool.

Solitude imbues nearly all her pictures. Most of her subjects are alone, appearing lost in thought. Even figures in groups or crowds seem detached, staring away from their companions, sometimes in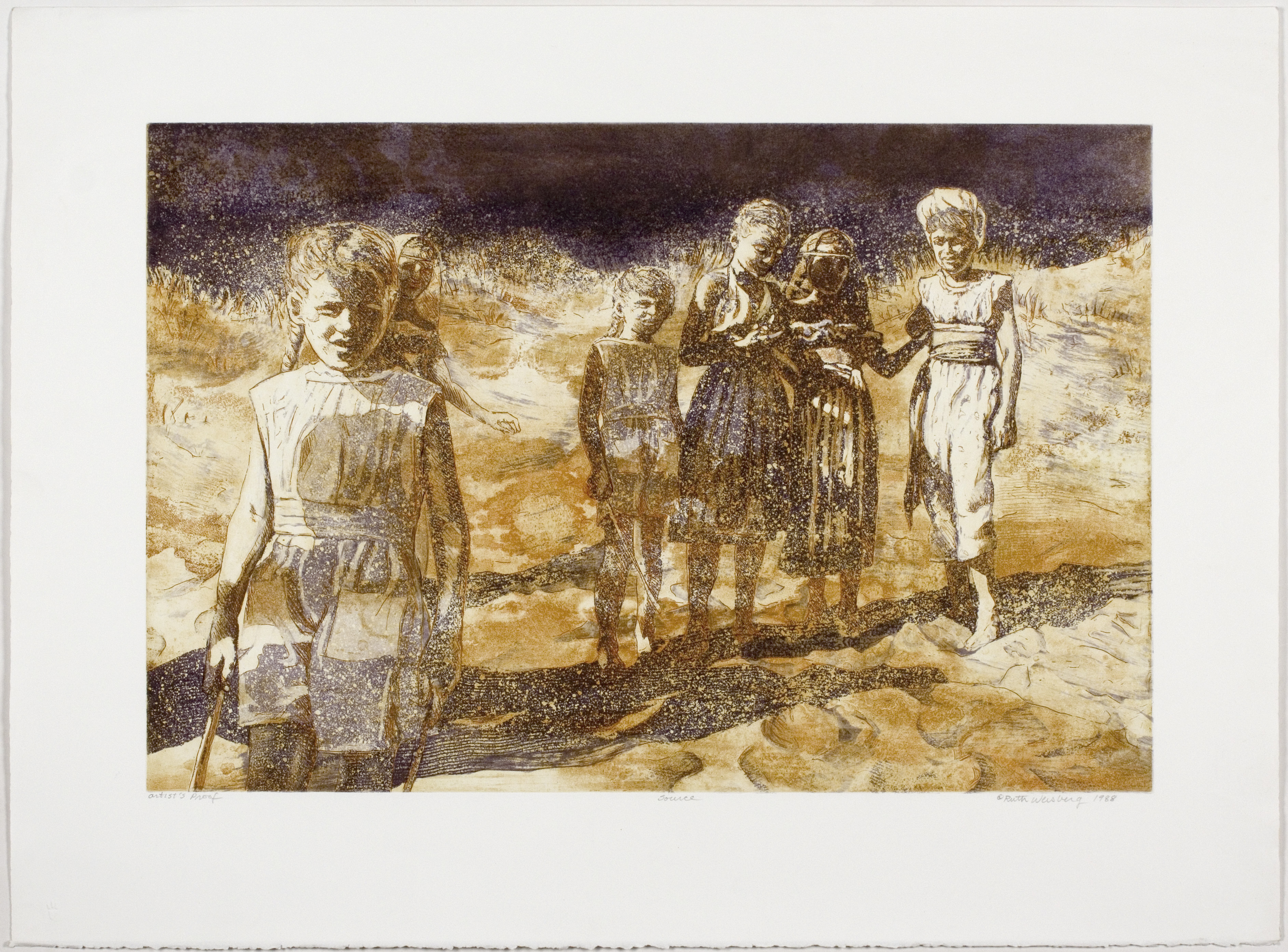 Source, 1988, Original Etching, 15 3/4 x 23 3/4 inches
the direction of the viewer, as in Together Again (1975), Neverland (1976), and Source (1988). The dismal loneliness in these works seems to indicate mortal alienation of the depicted children, frozen in time.
From an overarching standpoint, the sad detachment hallmarking Weisberg's work may imply her personal sense of isolation in longing for the past and yearning for communication with deceased artists.

"Artworks are crowded with solitudes. The lack of contact between artist and viewer must be part of the artwork's enduring and distinct appeal," David Humphrey observed in his book Blind Handshake (Periscope Press, 2009). "The paradox of detached connection might have fetish-like powers...Pictures engage us partly because we are able to occupy their spaces with our thoughts. Artist and viewer are, in a sense, having solitary conversations enabled by the forever off-frame other."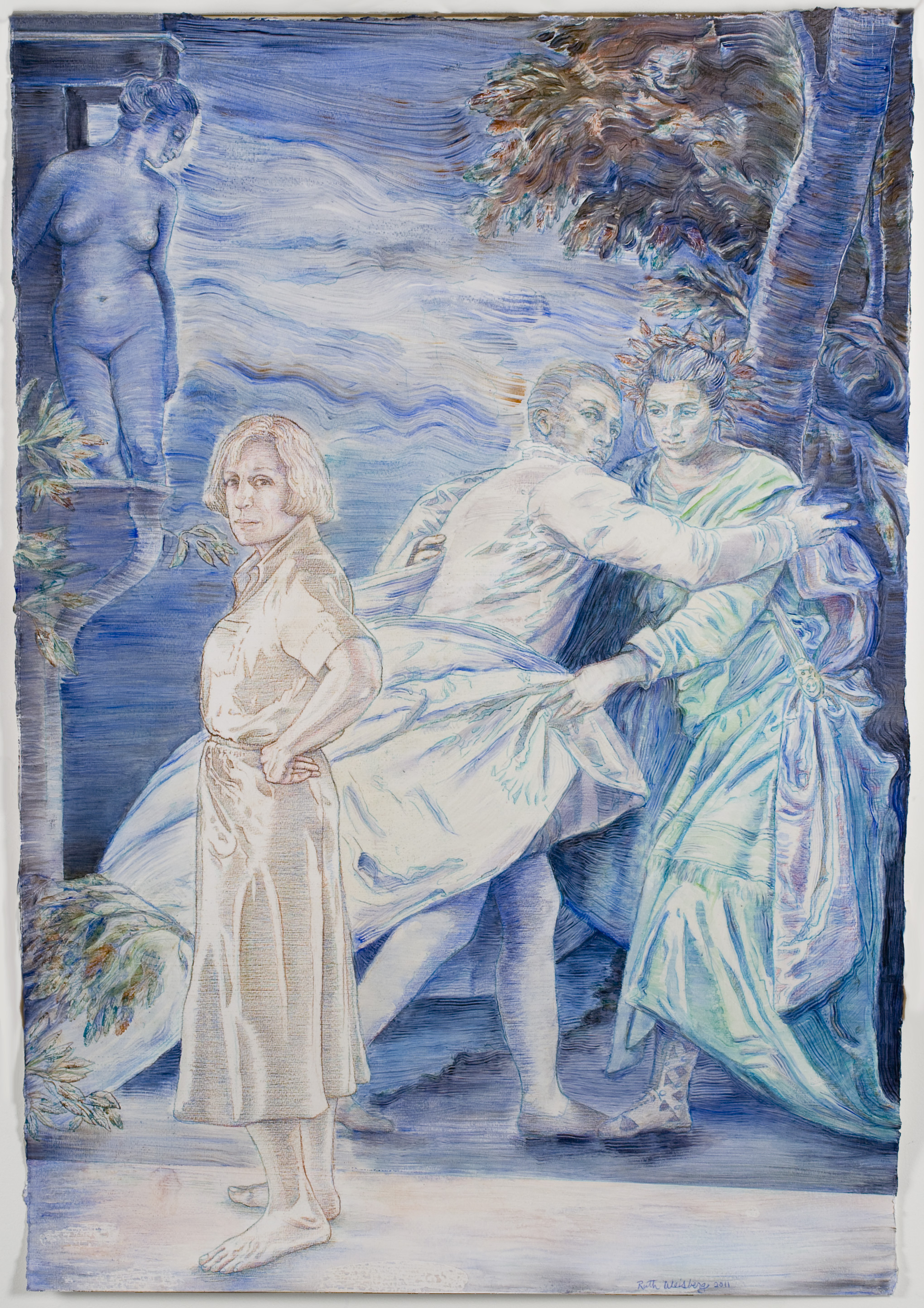 Questioning Veronese, 2011
Oil, Pastel and Colored Pencil on Gessoed Paper
37 x 25 1/2 inches
The mystical appeal of these solitary conversations, though, is half illusion. An artist can communicate through his work (whether or not it's interpreted in accordance with his intentions), but the viewer really doesn't communicate with the artist--the feeling that he does is a mere vanity. The communication is one-sided inasmuch as the viewer can only project, not transmit.

This paradigm is more complicated for an artist who, like Weisberg, seeks to enter a "dialogue" with a deceased artist. The artists' dialogue is more of a dual monologue. Her desire to communicate with said artist will remain just as unreciprocated as that of any other viewer, though her ability to re-interpret the artist's works allows her to communicate towards her own viewers while partially inhabiting the guise of that artist. Thus, the optimistic senses of possibility and freedom implicit in Weisberg's individualistic interpretations of historical artworks are tempered by the wistfulness of detached connection: transmission is unrequited, never mutual. Fancying herself an intermediary is mostly a pretense; she casts herself as an actor, interpreting her source artist's role while contributing her own flair to a sequel.

Weisberg's early-life attraction to theater and dance choreographs her art. Figures pose stiffly before backgrounds so flat they appear as scrims, most notably in Questioning Veronese (2011) and Passage (1985). Gilles, the stock character of the sad clown in French theater, appears in Gilles et L'Ancienne (1978) and La Commedia E Finita (1977).
The latter shows a figure that could be interpreted as a version of Gilles in Watteau's 1719 painting, opening the curtain on a scrim depicting the final scene of Marcel Carné 's 1945 film Children of Paradise.

Children of Paradise intersects Weisberg's work multi-thematically as well as pictorially. In keeping with her interest in the Holocaust and recent Jewish history, it was filmed during the German occupation in France. Like Weisberg's pictures, the film is self-consciously theatrical: it opens with a curtain, pauses for "intermission," and contains scenes of several plays within. As in her pictures, the movie treats of thwarted desire and unrequited love.

In his essay titled "Marcel Carné, Les Enfants du Paradis, 1945," Norman N. Holland discusses the film's cliché of a "romantic quadrilateral" in which "A loves B who loves C who loves D." The linearity of this paradigm mirrors the aforementioned chain of artistic un-reciprocation: deceased artist speaks to living artist who speaks to viewers who can only project. Holland concludes his essay with the thought that Carné's film is imbued with "an aesthetic of 'incompletion and disconnectedness'": an overarching aesthetic that also applies to Weisberg's work.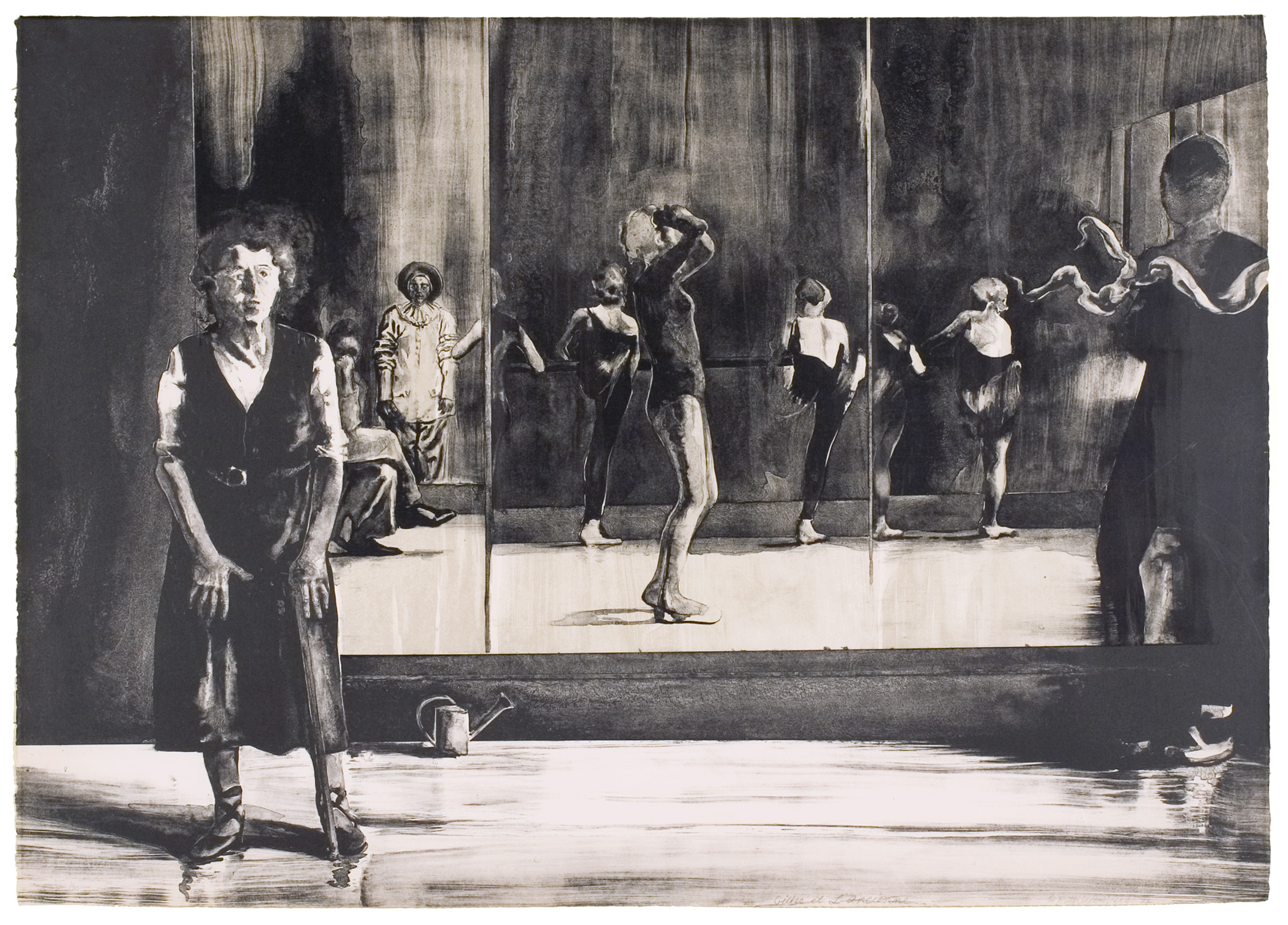 Gilles Et L'Ancienne, 1978
Original Lithograph, 29 5/8 x 41 3/4 inches
Likewise, her pictures share affinities with the tonality of black and white film. Whatever the medium, her figures are typically backgrounded by monochrome or muted colors.

Underscoring her commitment to drawing and printmaking, nearly all of the works shown are on paper. Even in her paintings, her focus on printmaking is evident in the way she deploys line and wash, similar to her lithographs. Return, the exhibition's one large painting, is on unstretched canvas. According to Rutberg, her predilection for the texture of handmade paper in her prints and drawings inspired her trademark use of unstretched canvas as a painting surface.

Unstretched canvas affords the painter a more free-flowing sensibility than the traditional stretched rectangular solid. Unstretched, canvas has more give; it may be more easily moved around, and even folded and draped in order to create flowing washes and textures. A stretcher turns a painting into an object, whereas an unstretched canvas retains its identity as a piece of cloth. As it is used in garments, blankets, and other items designed to envelop the body, cloth seems more humanizing than a rectangular solid.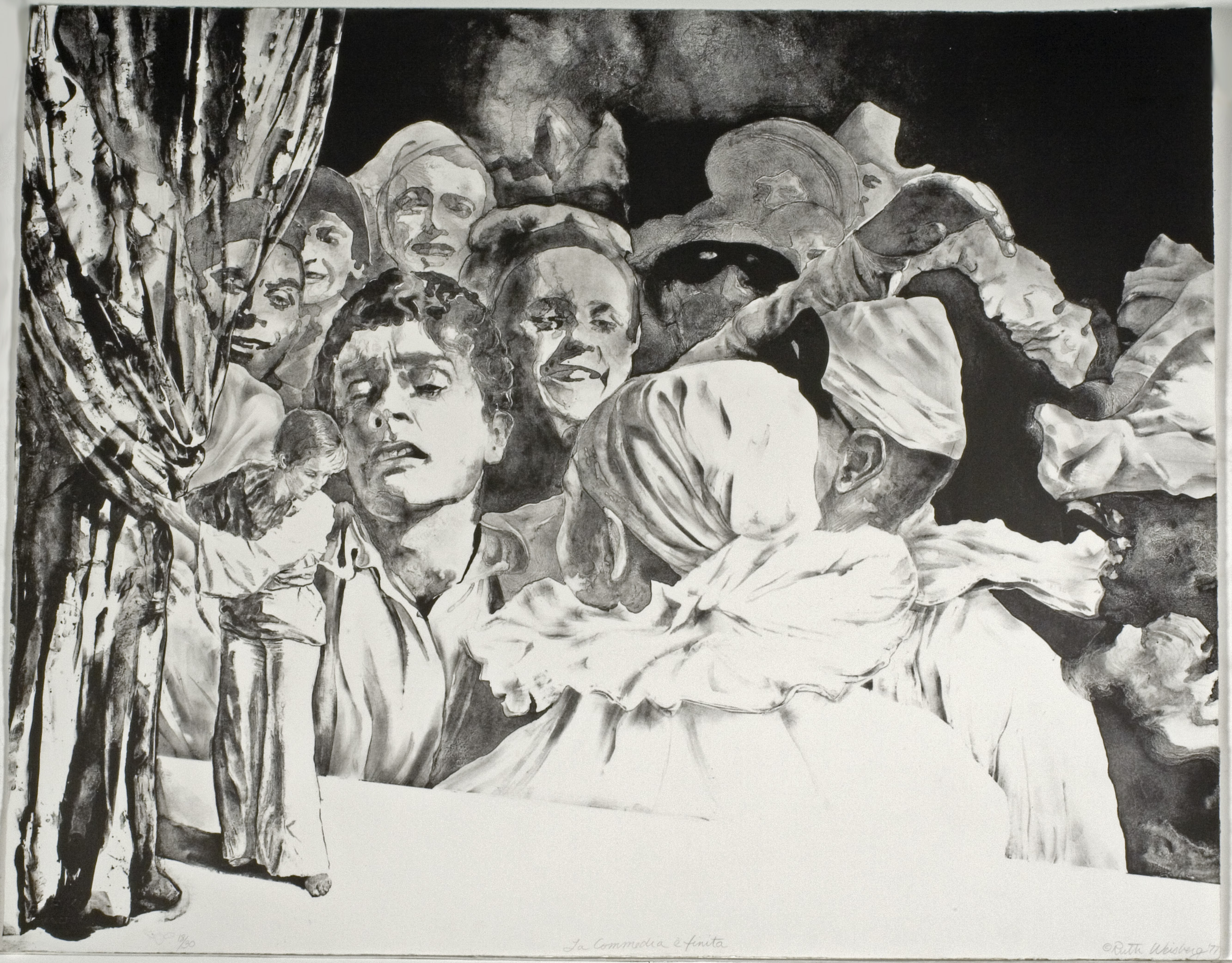 La Commedia
É
Finita, 1978
Original Lithograph, 29 1/4 x 37 1/2 inches
The finished unstretched painting becomes one with the wall and therefore seems more a part of its total environment, as opposed to the way stretched paintings assert themselves as separate objects that protrude and cast shadows upon walls. Weisberg's large unstretched paintings are theatrical, like stage sets that situate the viewer in the artificial environment they posit. Her paintings themselves become like the scrims depicted in her earlier work.
The dramatic clichés and treatment of thespians' workaday lives in Children of Paradise echo Shakespeare's trite yet timeless phrase beginning: "The world's a stage," a concept suggested by Weisberg's theatricality. The gallery is a quiet participatory theater.

Rutberg curates exhibitions as if his gallery were a museum. He frequently produces catalogues for his exhibitions. His gallery is carpeted; wall labels bear supplementary information about artworks. Weisberg's current show features didactic placards picturing her source paintings and accompanying text--a touch that affects an academic, museum-like atmosphere appropriate to Weisberg's interests. In light of their sympathetic outlooks, it's easy to see why Weisberg and Rutberg have worked together for so long.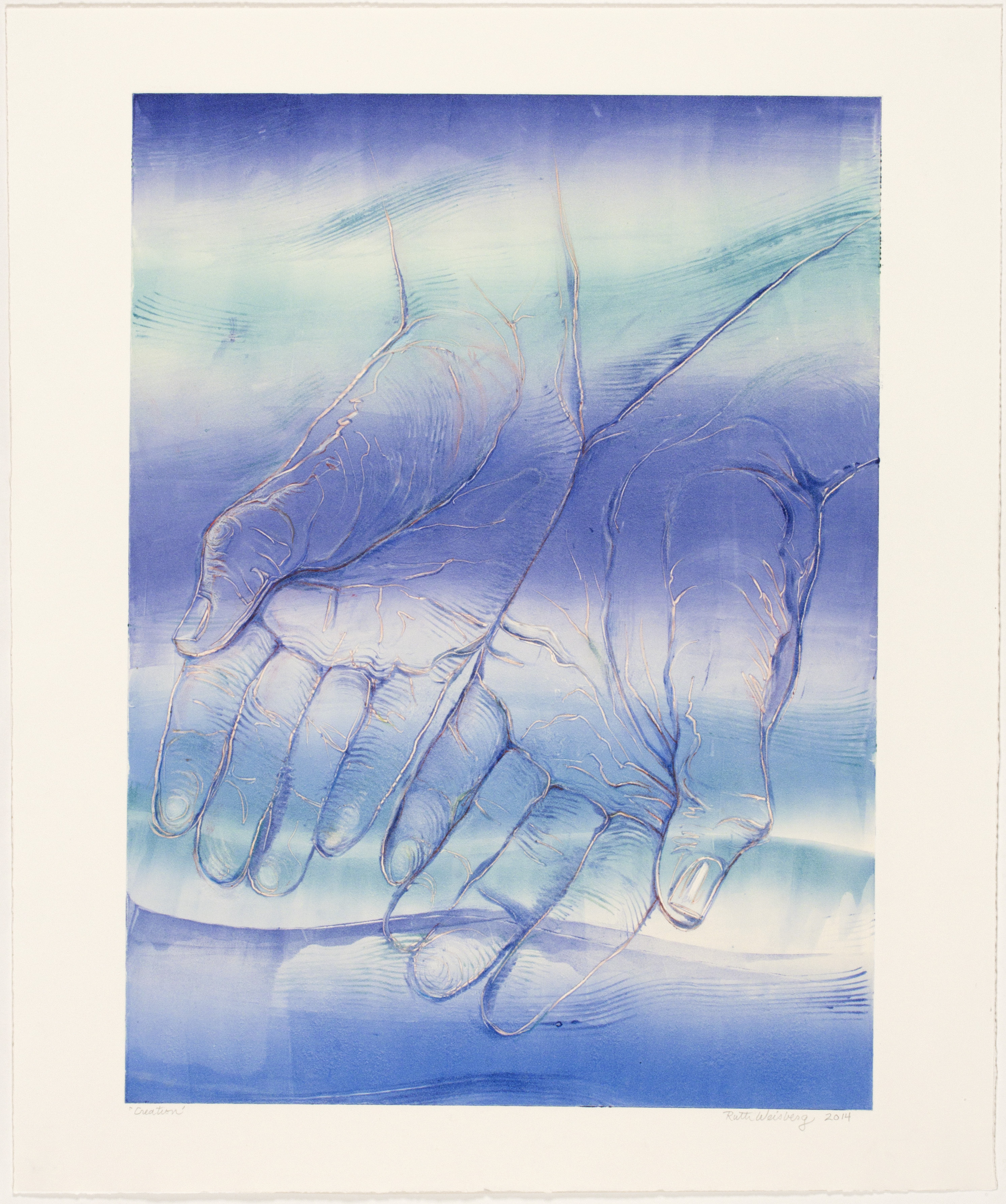 Creation
, 2014
Monotype, 23 7/8 x 17 5/8 inches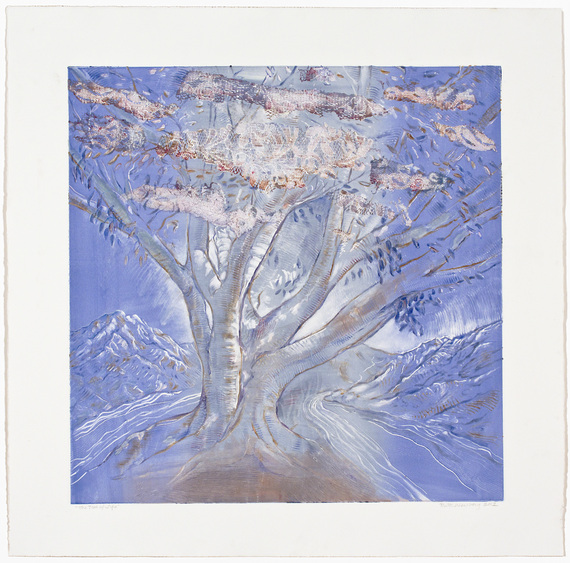 The Tree of Life
, 2012
Monotype, 23 7/8 x 23 5/8 inches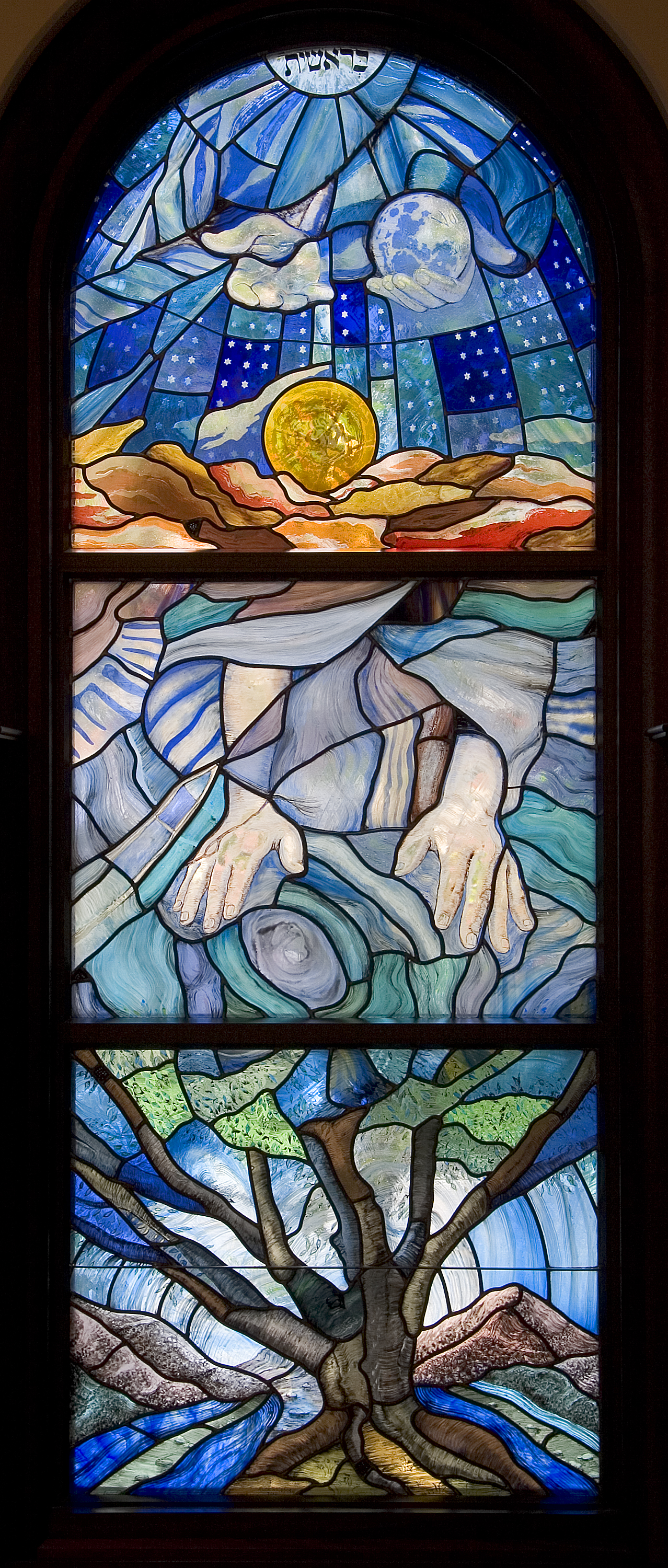 Creation, 2012
Stained Glass Window

(commission for Our Savior Church,
University of Southern California
Caruso Catholic Center.)
Rutberg began his career as a collector and dealer of prints. Printmaking is such an important part of Weisberg's practice that she hardly painted from 1979-1989. In conversation, Rutberg waxes philosophical about prints' fundamental nature as multiple originals, and poetic on their conveyed sense of touch despite production in quantity. In 1986, Weisberg wrote an essay titled "The Syntax of the Print," still popular assigned reading at colleges today.

Rutberg recalls seeing Weisberg at meetings of LACMA's Graphic Arts Council (a support council for prints) in the late 1970's. It wasn't until Rutberg opened his gallery in 1979 that the two really spoke. His first exhibition showcased the work of Hans Burkhardt and Arshile Gorky. Weisberg was so taken with the show that she wrote a cover article about it for Artweek Magazine, launching a dialogue between her and Rutberg that eventually led to their partnership. Having seen her work at the Los Angeles Municipal Art Gallery, among other places, Rutberg knew Weisberg primarily as an artist, and was impressed to learn she was also a prolific critic and teacher.
"Nothing stopped her," Rutberg declared. "This woman compartmentalizes her time in a way that is so extraordinary."

In a recent video, Weisberg praised Rutberg's design for this exhibition, stating that seeing it for the first time helped her see her work in a new light.

Much has been written about Weisberg's perspective as a Jewish feminist; and the exhibition includes several drawings for a Passover Haggadah she illustrated--a rare honor for a woman to be given such a commission. Across the room are two monotypes, Creation (2014) and The Tree of Life (2012), done in relation to a stained glass window she recently designed for a Catholic church at USC. She's currently working on a second window. These two commissions exemplify the inclusive appeal of Weisberg's work, betokening its influence that transcends the personal and religious affiliations to which she adheres. Tapping into a fountainhead of enduring meaning while remaining true to one's time and identity seems to be the goal of most artists, and the accomplishment of most artists who are considered great.